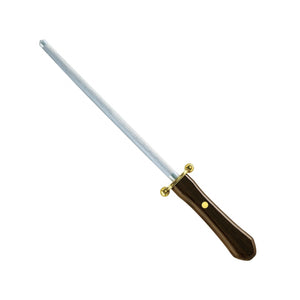 Honing bar is made of tempered chromium stainless steel (hardness around 65 RC) and handle is made of beautiful and durable Motoca wood.
7-7/8" honing steel restores the cutting edge that has deteriorated because of use, pushing the edge of the knife back to the center.
A must have tool in any kitchen.
Technical Specifications
For maintaining wood handle in beautiful condition, manual washing and a quick dry with soft cloth are recommended.
Limited lifetime manufacturer's warranty.
Made by Nicul in Portugal.
SKU: NI-500.1908.20.