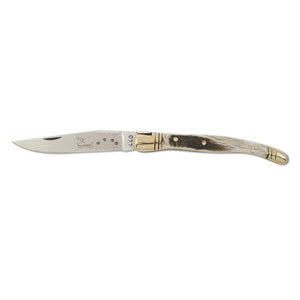 This classic French Laguiole design, is a steak folding knife that has a 4-3/4" (folded) blade with notches down the spine, thumb ramp and front and rear bolster made of bronze. Handle is made of authentic bull horn, triple riveted. Please note that horn color may vary because it's a natural material.
This specially beautiful folding knife has a rather wide blade, which makes it suitable as a personal steak knife, which you can carry and use everywhere. In this way, you don't have to suffer those serrated knives that you usually see in many restaurants. At the same time, is good for everyday use, to keep in your pocket or glove compartment.
Technical Specifications
Blade made of AISI 440 high carbon stainless steel (0.95% carbon, 16% chromium) is 4-3/4" long and 5/32" thick (4 mm). It has a 56-59 RC hardness, which ensures a long lasting sharpness. Item weighs 3.9 oz. Handle is made of Portuguese bull horn. Hand-washing and drying is recommended.
Limited lifetime manufacturer's warranty.
Made by Curel in Portugal.
SKU: CU-80006.