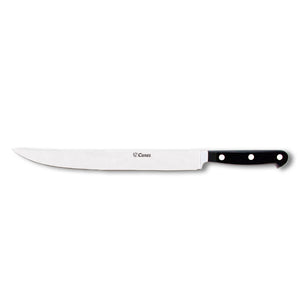 Trailing point style carving knife from our Forjada Collection, has a 9-1/8" blade and a durable black POM handle.
This large knife is the right tool for easily slicing large and thin pieces of roasted meat, ham or turkey.
Its professional design makes it an excellent option for a chef or serious cook.
Technical Specifications
Blade made of AISI 420 high carbon stainless steel (12% chromium) is 9-1/8" long and 9/64" thick (3.5 mm). It has a 50 RC hardness which ensures a long lasting sharpness. Item weighs 5.6 oz. Handle is made of Polyoxymethylene (POM), a strong synthetic polymer with excellent dimensional stability.
Knife is dishwasher safe, however, for lasting sharpness, drying with a soft cloth immediately after machine or hand-washing is recommended.
Limited lifetime manufacturer's warranty.
Made by Curel in Portugal.
SKU: CU-5225.