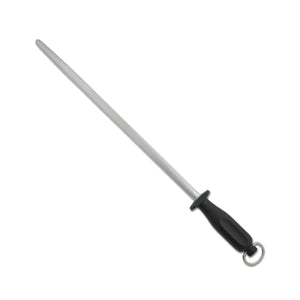 Professional 14" sharpening steel, has a black PP synthetic handle with a protective bolster and a steel ring for hanging.
Good for professional kitchen or serious home cook.
Technical Specifications
AISI 420 high carbon stainless steel (12% chromium) bar. Handle is made of Polypropylene (PP), a strong plastic that remains stable up to 320°F.
Sharpening steel is dishwasher safe, however, drying with a soft cloth immediately after machine or hand-washing is recommended.
Limited lifetime manufacturer's warranty.
Made by Curel in Portugal.
SKU: CU-0936.