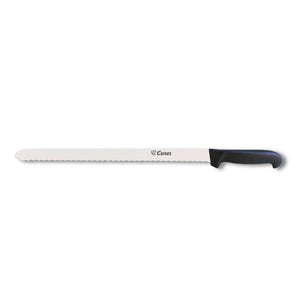 This extra large bread knife from our Professional Collection, has a 13-3/4" serrated blade and a comfortable and durable PP synthetic handle.
The knife's serrated edge makes it easy to slice both soft of crusty bread. Eventually, it can also be used for cutting big vegetables, like kale, cabbage and napa.
Technical Specifications
AISI 420 high carbon stainless steel (12% chromium) blade is 13-3/4" long and 3/32" thick (2 mm). It has a 50 RC hardness which ensures a long lasting sharpness. Item weighs 5.5 oz. 
Handle is made of Polypropylene (PP), a strong plastic that remains stable up to 320°F.
Knife is dishwasher safe, however, drying with a soft cloth immediately after machine or hand-washing is recommended in order to maintain sharpness.
Limited lifetime manufacturer's warranty.
Made by Curel in Portugal.
SKU: CU-3735.