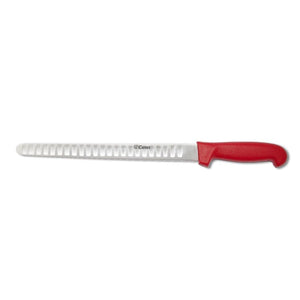 This slicing knife from our Professional Collection has a 11" high carbon stainless steel blade, with a scalloped (or granton) surface that prevents meat from sticking. In this way, the knife cuts elegant and well defined slices.
The red PP handle is a modern resin, which is comfortable and durable.
This knife is the tool of choice for slicing ham, turkey, charcuterie or any other kind of meat.
Excellent addition to a professional kitchen.
Technical Specifications
Blade is made of AISI 420 high carbon stainless steel (12% chromium) and is 11" long and 1/16" thick (2 mm). It has a 50 RC hardness which ensures a long lasting sharpness. Item weighs 4.3 oz. Handle is made of Polypropylene (PP), a strong plastic that remains stable up to 320°F.
Knife is dishwasher safe, however, drying with a soft cloth immediately after machine or hand-washing is recommended in order to maintain sharpness.
Limited lifetime manufacturer's warranty.
Made by Curel in Portugal.
SKU: CU-3729