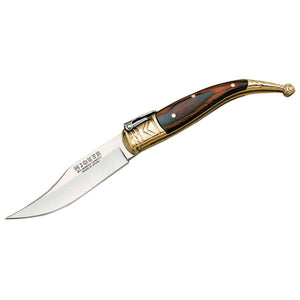 Small folding knife with a 3" trailing point style blade, thumb stud, red stamina wood handle with 3 bronze rivets, and front and rear bolsters. This is a modern version of the popular Bandolero knife, still aggressive and elegant.
This classic design is a good option for everyday use and for discerning knife collectors.
Technical Specifications
Blade is made of Molybdenum Vanadium 1.4116 stainless steel, 3" long and 3/32" thick. It has 55-57 RC hardness. Front and rear bolster made of brass. Item weighs 0.9 oz. Hand-washing is recommended.
Limited lifetime manufacturer's warranty.
Made by Joker in Spain.
SKU: JK-NR02.