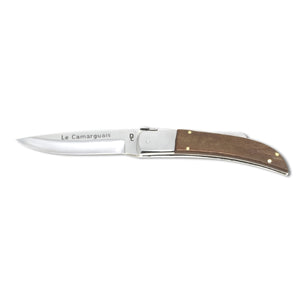 4-3/4" folding knife (folded) from our French Camarguais Collection, has a stainless steel blade with notches down the spine, thumb ramp, front bolster and green stamina wood handle with four rivets.
Elegant and practical, for keeping in your pocket, or glove compartment.
Technical Specifications
Blade made of AISI 440 high carbon stainless steel (0.95% carbon, 16% chromium) is 4-3/4" long and 5/32" thick (4 mm). It has a 56-59 RC hardness which ensures a long lasting sharpness. Stamina wood handle is impregnated with resin, for longer duration and smoother finishing. Weight is 5.3 oz.
Hand-washing and drying is recommended.
Limited lifetime manufacturer's warranty.
Made by Curel in Portugal.
SKU: CU-80012.