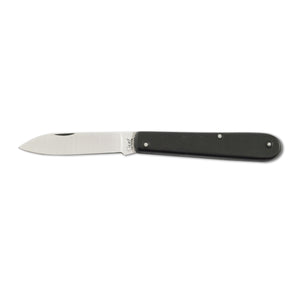 4-1/2" folding knife (folded) made of high carbon stainless steel with a triple riveted, black handle.
Small and inexpensive pocket knife, for keeping as a back-up in the car gloves compartment or boat.
Technical Specifications
AISI 440 high carbon stainless steel (0.95% carbon, 16% chromium) blade is 4-1/2" long and 1/16" thick (2 mm). It has a 56-59 RC hardness for long lasting sharpness.
Knife is dishwasher safe, however, drying with a soft cloth immediately after machine or hand-washing is recommended in order to maintain sharpness.
Limited lifetime manufacturer's warranty.
Made by Curel in Portugal.
SKU: CU-80106.