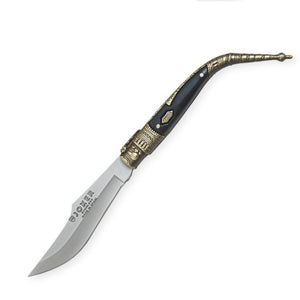 Small folding knife with a 3-1/4" trailing point blade, thumb stud, handle made of black ABS resin and golden Zamak, with embedded mosaic. This is a surrealistic and modern version of the popular Bandolero knife, still aggressive, but more elegant.
This classic design is a good option for everyday use and for discerning knife collectors.
Technical Specifications
Blade made of SS420 stainless steel is 3-1/4" long. Knife's total length is 7-1/2". It has 55-57 RC hardness, which ensures a long lasting sharpness. Handle is made of black resin and golden Zamak, an alloy that includes zinc, aluminium and copper. Item weighs 1.8 oz.
Knife is dishwasher safe, however, for lasting sharpness, drying with a soft cloth immediately after machine or hand-washing is recommended.
Limited lifetime manufacturer's warranty.
Made by Joker in Spain.
SKU: JK-N104C.